Dr. Jody Carrington shares how to talk with our kids about big things (like war). 
Plus, hear how other parents handle it, and discover an awesome resource for important chats.
Talking With Kids About Big Things
First, let me say our hearts are with the people of Ukraine, as they bravely stand against unprovoked Russian aggression. Like many of you with little ones, when things started to escalate last week, my husband Ryan and I chatted about how we wanted to talk with our son about everything. We often include Wyatt (now six years old) in big things going on in our world, and we believe it's important to do so. This time was a bit different. We gave it some thought and reflected on all the anxiousness and instability over the past two years. It goes without saying, our kids have been through so much. So, we've decided to hold off – for now – on talk about this war. We feel like his little six-year-old self has taken on enough these past two years, and his well-being is our top priority.
Let me acknowledge the privilege we have in being able to make this decision. I absolutely get that it's a privileged position to be in to make the choice to shield him from this for now. Not everyone has the choice to be able to just not talk about it or not deal with it. I totally get that.
If and when you choose to have those conversations with your kids, here are some approaches and thoughts to consider: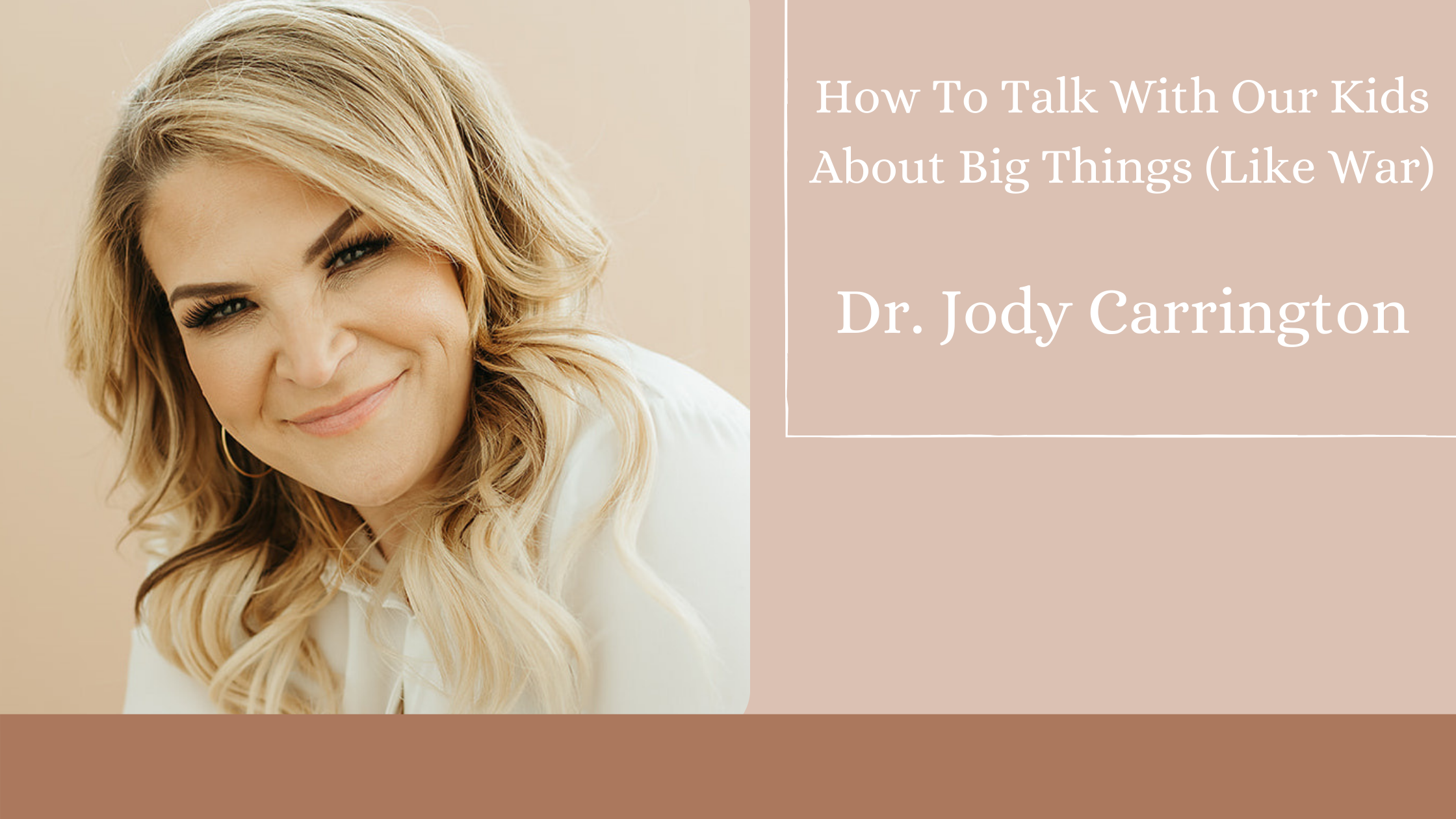 Advice From Dr. Jody
I touched base with my friend Dr Jody Carrington – a psychologist, speaker, and author of several books including 'Kids These Days' – about how to talk with our kids about big things. She says there is no right way to do it, but don't underestimate the importance of doing it. Things to consider:
Kids listen – to the news, to our conversations, to the things everyone is talking about most. Kids talk with each other – trying to make sense of what they "know". Their brains aren't big enough to make sense of it all, so ask them questions: "what have you heard about in the news lately?" "What do you think it all means?".
The job of big people, parents, caregivers, teachers, is to create little places to figure the big things out. You don't need to have all the answers but making space for big emotions matters.
Parenting, teaching, coaching – it's all an incredible opportunity for self-growth. Ask a lot of questions and pay most attention to how you answer. What don't you know about? Sometimes kids are our biggest teachers.

Stay connected in times of greatest disconnect. It will be our biggest challenge—and our greatest reward.

What Parents Are Saying
Here's what the KariSkelton.com community on Instagram had to say. (This topic was age-specific to little kids.)
"We give them the facts but keep it very basic. No tragic details but we want them to understand that this is happening in our world if they may hear others talking about it." ~Amy
"We showed our seven-year-old where Russia and Ukraine are on the map and then spoke very generally about what's happening. We focused on hoping everyone there will be ok, sending them good thoughts, and reminded her that she is very safe where we live". ~Max
"Keep news off, reassure them they're safe and be calm" ~Brenda
"With the current situation, I've downplayed it with my 9+5-year-olds. I don't want to worry them." ~Ally
"We explained it to them in little kid terms that they can digest without scaring them. 'This country is being very mean and hurting people in this country and the rest of the world is very concerned for the people who live there.' ~Rachelle
Awesome Resource
We have yet to dive into this but another friend of KariSkelton.com – Nicole – messaged me this resource on Instagram. It's called A Kids Company About – books, podcasts, and apps to help spark important conversations. Have you used it? If you try it out, please let me know what you think!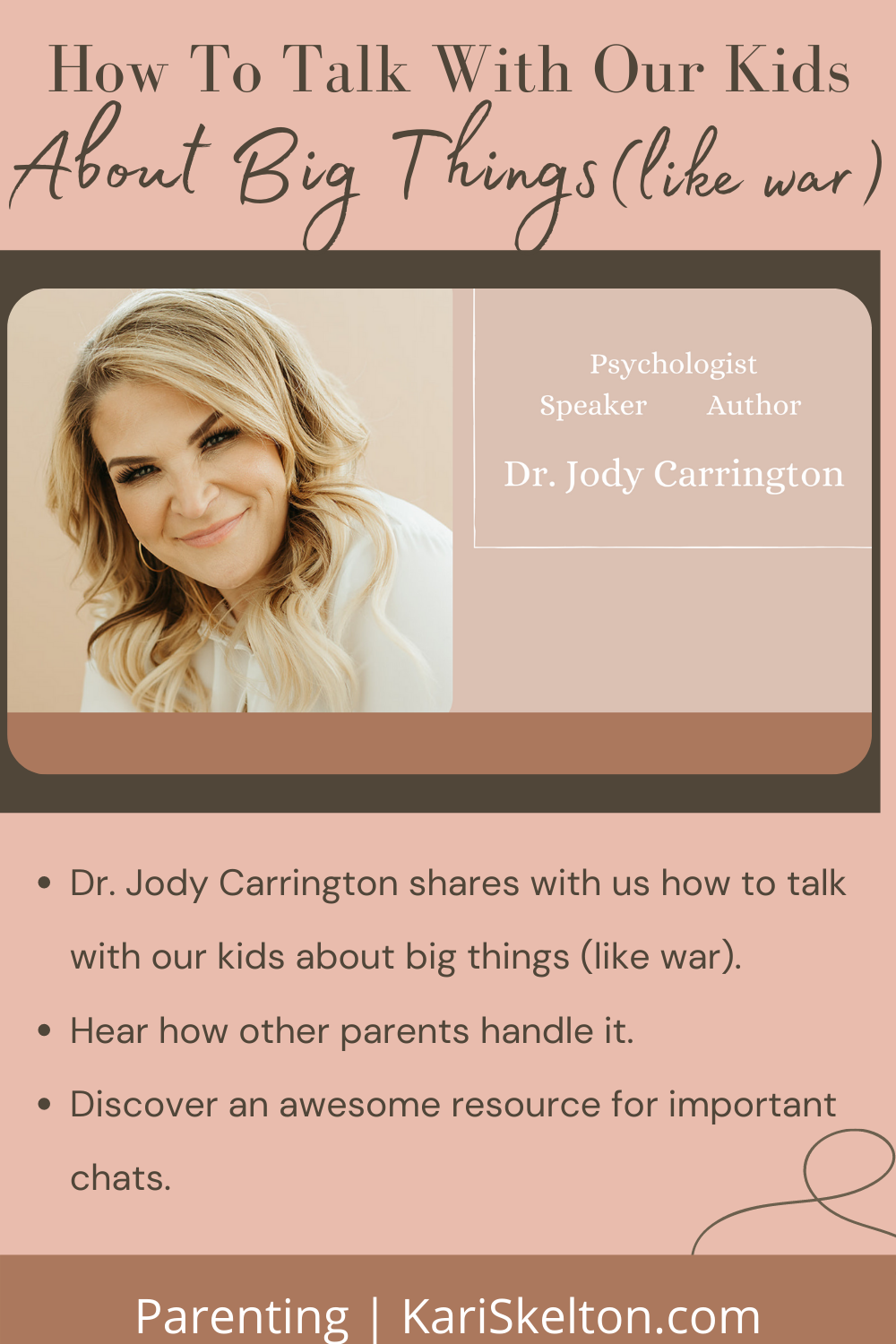 Other Posts You'll Love
xx